If you believe that a negligent manufacturer or other party was the cause of your injury, it is imperative that you consult with a Milford product liability attorney at Connolly Brennan Ralabate, PC right away. We can help you gather evidence and determine if you have grounds for a claim. Call (203) 493-0093 to schedule a free consultation today.
When someone is injured by a defective product, the person or company responsible for designing, manufacturing, or distributing that product may be liable for any losses. Defective product lawsuits are also known as product liability cases. Our Milford law office can supply you with more information on filing a product liability case.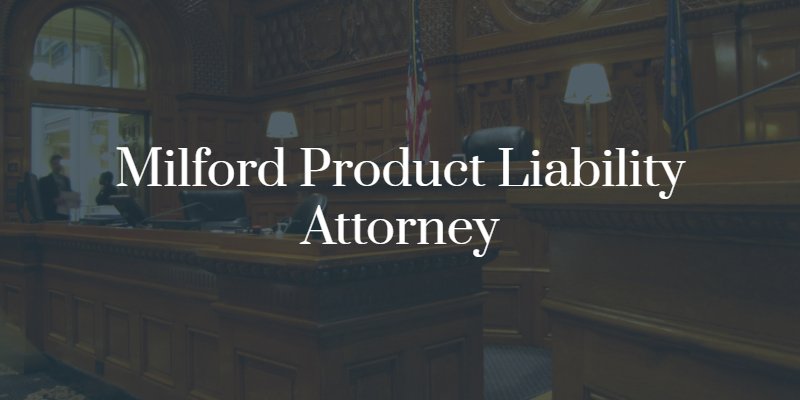 Why Choose Us?
We understand product liability law, and as a full service law firm, can handle any matter related to your case.
We have a successful track record and a strong reputation when it comes to holding at-fault parties accountable for our clients' pain and suffering.
Our Milford injury lawyers have recovered millions in compensation on our clients' behalf.
We have a commitment to putting the best interests of victims and their families first, and ensure they receive maximum compensation, even if that means foregoing a settlement offer and bringing a case to court.
Milford Defective Product Lawyer Quick Links
Why Do You Need a Lawyer for Your Product Liability Case?
Product liability cases are complex and can be easily lost due to hundreds of little details, making it very difficult to handle on your own. This is because they often involve highly technical and fact-specific issues. An experienced Milford product liability lawyer can help determine the best course of action and has the resources to hire qualified experts who can testify about the manufacturing and building of the defective product. Without adequate testimony, it can be difficult to win a product liability claim.
Most of the companies involved in these types of cases have aggressive attorneys to defend against consumer lawsuits. They will attempt to shift the blame towards you and argue that the product was not used in accordance with the instructions. Your defective product attorney will have collected evidence and built a strong case on your behalf, to protect you from this type of defense and will safeguard your right to compensation.
Common Examples of Defective Products
Injuries from dangerous or defective products are more common than you might think in the United States, and often include the following:
Vehicles: Car defects and car part recalls, such as defective airbags, tire recalls, malfunctioning ignition switches, or anther manufacturing defect.
Medical Products: such as defective medical implants recalls, defective medical devices, prescription drugs and other dangerous drug issues.
Household Products: defective televisions, air conditioners, microwaves, malfunctioning power tools, and lawn care equipment.
Children's Products: including toys and defective car seats.
How Much Will It Cost to Pursue a Defective Product Liability Claim?
After a serious accident, there are often medical bills, co-pays, prescriptions, and you may be unable to work. In effect, money can easily become an issue. The last thing you want to do is pay for a lawyer.
Many defective product liability lawyers, including us, will represent you on a contingency fee basis.  A contingency fee basis means they will advance all of the expenses related to the case. Only once they win your case, will they take a percentage of your recovery.
Connecticut Defective Products Liability Laws
Product liability claims in Connecticut must be filed within specific time periods, according to a law known as the statute of limitations. In most cases, a product liability suit must be filed no later than three years after a victim's injury, or when the injury should have reasonably been discovered. However, a statute of repose is in place, requiring the product to have been bought by the consumer within the last 10 years prior to the date the lawsuit is filed. If you need legal representation, a products liability lawyer at Connolly Brennan Ralabate, PC can help.
Consumers deserve to be safe when using products and devices in their daily life. If you have been injured, our product liability attorneys can help. To set up a free consultation with an experienced product liability attorney in Milford, call Connolly Brennan Ralabate, PC directly at (203) 493-0093, or fill out our online contact form. We have extensive experience and can serve you throughout the state of Connecticut.